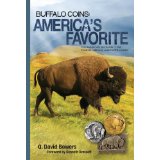 Buffalo Coins: America's Favorite
By Q. David Bowers
Whitman Publishing
Retail Price $14.95
Amazon Price: $12.29
Book Description:
The American bison, popularly nicknamed the buffalo, is a part of our national history, romance, lore, and legend. In their day bison roamed the plains by the millions. These large and impressive animals, the icons of the American West, were popular subjects of prints, stories, and melodrama. The exploits of Buffalo Bill in the Wild West captivated generations of the young and old alike in the late 1800s and early 1900s. Heavy hunting decimated their populations, though, and before long the American bison was nearly extinct. Today the bison is cherished, and government and other entities have set aside preserves for their use. The danger of extinction has passed. Buffalo Coins: America's Favorite is the story, still continuing, of these wondrous animals.

Review
I feel this is an unusual book from Whitman Publishing. While it is indeed a coin book it also gives the rich history of the Bison in the United States, tying it in to Buffalo coins. There are chapters on the history of the coin as well as grading the coins as well as the bison in popular culture and the future of the bison. This is a well-rounded book and the author shares many interesting photographs, not only of coins, but of the animal as well. Bowers is a wealth of knowledge and I learned so much. The author has an entire chapter on the Buffalo nickel and this coin is well-known, I learned from this book that there were other coins featuring the bison as well.
~Reviewed by John C.